Issue 2
Sundae Girl
Knickerbocker Glory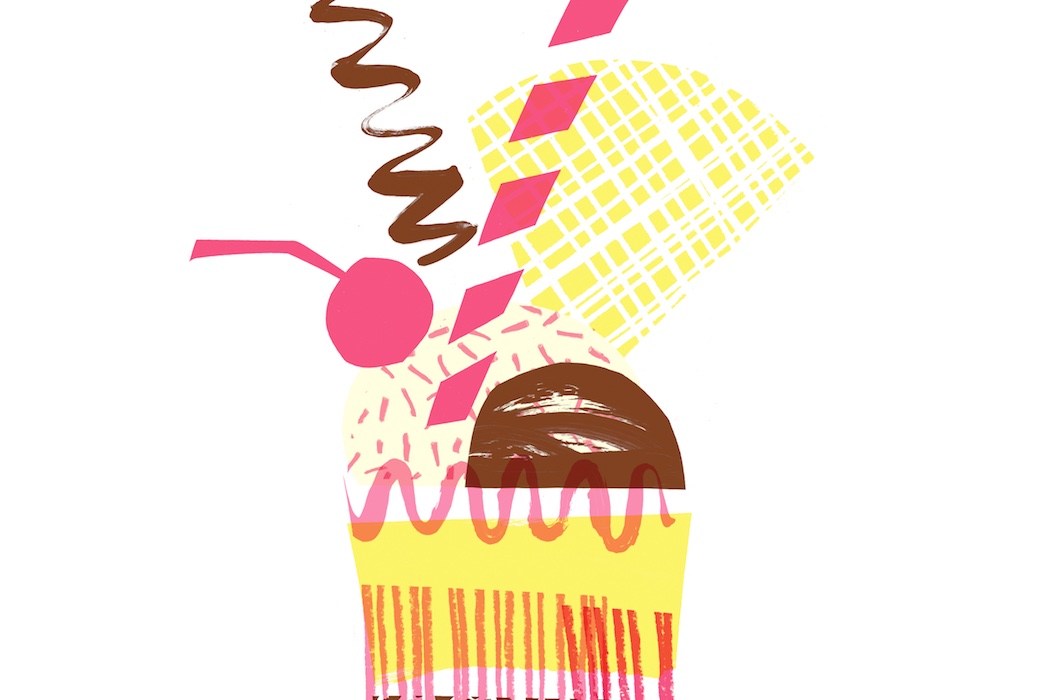 WORDS BY LAURA GOODMAN
ILLUSTRATIONS BY LOUISE SHEERAN
An English seaside town in summer. Time to try the most preposterously elaborate creation in the ice cream parlour: Knickerbocker Glory.
Ice cream is good for you
Keep fit by eating ice cream every day
Try banana delight
Soups
...say the neon signs at Scarborough's Harbour Bar, where there isn't any soup. This 70-year-old ice cream parlour is a beacon of sugar and cream on a salty, grey seafront. It's stupid and fabulous, with high red chairs at a milky-yellow bar. It's close enough to the sea that you can hear the shrieking gulls and smell the seaweed and keep an eye on the clouds over the top of your glacé cherry.
Behind the bar, six sullen-looking ladies in matching yellow tunics stand in a row, talking about the time when Wendy had her bathroom done. There are no men. The ladies may not look it, but they're as ready as they'll ever be to whip up your Cherie Amour, or Pear Valentino, or Knickerbocker Glory – whatever you fancy. It's summertime in Scarborough, and ice cream is yours for the taking.
I only have eyes for the Knickerbockers. I've dreamt of these things for years, knowing nothing about them other than their name. They look and sound like carnival in a curvy glass, and that appeals to me wildly. I don't want a new-fangled iteration. I want the original (and best).
Children can find wonder in a single flavour, but adults need more. We want layers. Surprises. Something bigger and better than anything we've had before
I approach my Knickerbocker Glory by poking my long spoon down the side of the glass, moving on to the next level before I've unlocked the one I'm on. But Rich is methodical, taking his Bananarama one layer at a time, eventually polishing the whole thing off.
I don't think there are rules about what goes in a Knickerbocker Glory, but this one contains strawberry ice cream, vanilla ice cream, peaches, mandarins, pears, strawberry syrup and two types of wafer. Rich's Bananarama is basically the same, but themed (banana syrup and fresh banana). His offers cohesion, which I think can be overrated.
When I get to the bottom of my glass – a pool of unicorn- pink syrup – I realise what is staring me in the face: my Knickerbocker Glory has not been delicious. So sweet and gloopy and reliant on tinned fruit. We head out on to the seafront and get chips and scraps for afters.
Weeks later, we are at Morelli's in Broadstairs, a 1950s Italian gelato parlour. It's got a lovely old sign and a huge plastic statue of a cornet, and leather banquettes in a delicious shade of strawberry milkshake. Along the left- hand side, an upholstered cream and gold bar supports a guzzling purple La Marzocco machine, and the 11 or so staff wear tees to match the machine. There are pearlescent pink and white balloons drifting around, perhaps because it's a child's birthday.
After a lifetime of no-Knickerbockers, I order my second of the summer, but this time my resolve is weakened. I am tempted by sundaes with Piedmontese hazelnuts. And dulce de leche. And hot fudge. But those things are not what I came for, so I stick with the original (and best?).

It's a little less sickly than the last one, but mostly the same. I get through it in a daze – such, I think, is the reality of layered ice creams. I can't finish it. I'm out. Take me to the chip shop.
What I will say is that it feels good to eat something that makes no sense: to say "KNICKERBOCKER GLORY" out loud, and then behold it, and take a photo of it, and eat it up and laugh about it, and feel a bit sick from it. I can eat an ice cream sundae followed by chips if I want to! I'm living!
But here's the thing: I live in the modern world where I can have brioche and salted caramel and fresh mango when I want them. Tinned mandarins aren't cutting it. How gross am I? I am too spoilt for Knickerbocker Glories, the most glorious things of all.