EVENT
Fermentation
Raw Duck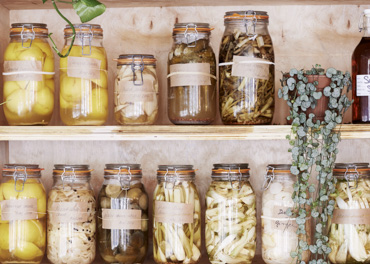 Wednesday 10th August
7pm-9.30pm

Join Hackney-based restaurant Rawduck for a masterclass in ferments, pickles and fermented drinks. Learn how to tackle your own ferments, from funky kimchi and sauerkraut to fruity and delicious drinking vinegars and kombucha. The class will take you through the basics, demonstrating how to create fermented foods with confidence, so you can make these bubbling pots of living health in your own kitchen. They'll set you up with your own ferment to take away so that you're successfully on the road to fermenting, while giving lots of tips and tricks along the way.

About your host

Rawduck is an all-day dining restaurant in London Fields focusing on simple seasonal cooking and robust flavours. Taking a healthful approach to eating, ferments, pickles and drinking vinegars are an important part of the menu. All their ferments, jams and drinks are made in-house, and guests are encouraged to begin their meal with either a selection of drinking vinegars or ferments to help set them up for the meal ahead.

- £0