EVENT
Women on Food
Jikoni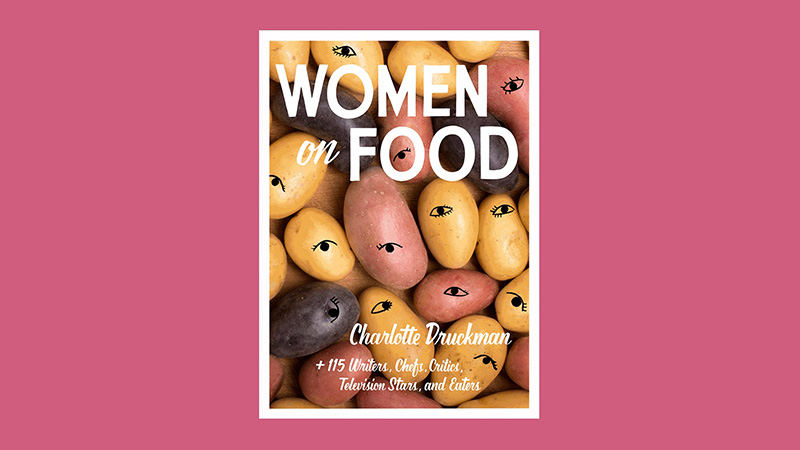 9th March 2020

Jikoni, 19-21 Blandford St, Marylebone, London W1U 3DH
Doors open 6.30pm, dinner and readings start 7pm

To celebrate the newly released unconventional anthology Women on Food from American food writer Charlotte Druckman, we're thrilled to present an evening dedicated to the best in culinary literature. Some of the most distinct, compelling female voices in food will select readings from among the works oftheir favourite women writers.

The event will be co-hosted by Miranda York, founder of At The Table, Charlotte Druckman, and chef and food writer Ravinder Bhogal, at Bhogal's Marylebone restaurant Jikoni, where she will prepare avibrant, seasonal feast including dishes such as Paneer Gnudi, Spinach & Wild Garlic Saag with Pickled Lemon & Pine Nuts, Salmon Kibbeh Nayeh with Fennel & Olive Salad & Smoked Labneh, Dhal Makhni & Montgomery Cheddar Croquetas, FreshlyBaked Za'atar Bread, Smoked Baingan Bhartha, and Saffron & Orange Blossom Crí¨me Caramel with Blood Oranges.

SPEAKERS

Felicity Cloake
Felicity Cloake is an award-winning journalist and food writer known for her 'How to Make the Perfect...' column in the Guardian. She is also a New Statesman columnist, winner of the Guild of Food Writers' Food Journalist of the Year and New Media awards, and author of six books including Perfect, The A-Z of Eating, and One More Croissant For the Road.

Benjamina Ebuehi
Benjamina Ebuehi is a baker, recipe writer and food stylist. Having appeared onThe Great British Bake Off as a quarter finalist in 2016, she has since launched lifestyle brand The Sister Table and published her debut cookbook The New Way to Cake. She is also an ambassador for the Luminary Bakery, a social enterprise empowering disadvantaged women through baking.

Bee Wilson
Bee Wilson is an award-winning food writer and school food activist. She is the author of six books including The Way We Eat Now, Consider the Fork and FirstBite: How We Learn to Eat. She writes for a wide range of publications including The Wall Street Journal, The Guardian and The London Review of Books, and is thechair of TastEd, a charity offering taste education in UK schools, exposing children to vegetables and fruits in a positive way.

Yasmin Khan
Yasmin Khan is a writer, broadcaster and campaigner whose work sits on the intersection of food, travel and politics. She is the author of the best selling cookbooks The Saffron Tales and Zaitoun and is currently working on her third book, about the food and people of the Eastern Mediterranean. Prior to working in food, she was a human rights campaigner running national and internationalcampaigns for NGOs and grassroots groups.

Charlotte Druckman
Charlotte Druckman is a food journalist whose work has appeared in the New York Times, Travel + Leisure, and the Wall Street Journal, among many others. She conceived and edited the collection Women on Food and is the author of Skirt Steak: Women Chefs on Standing the Heat and Staying in the Kitchen. She has written two cookbooks: Stir, Sizzle, Bake and, arriving next month, Kitchen Remix. She was also the creator of Food52's Tournament of Cookbooks (aka ThePiglet) and lives in New York City.

Ravinder Bhogal
Ravinder Bhogal is a journalist, chef, restaurateur and broadcaster. In 2016 sheopened her first restaurant, Jikoni, to a rapturous reception, gaining a place in the National Restaurant Awards within six months of opening. Her debut cookbook Cook in Boots won a Gourmand World Cookbook Award, and her second book Jikoni: Proudly Inauthentic Recipes from an Immigrant Kitchen will be publishedby Bloomsbury in May this year.

Tickets include a welcome cocktail, three-course meal, and a treat to take home.
Please note that tickets are non-refundable but you may transfer your ticket if desired.
Tickets - £65