The Kitchen Drawer
Apron
The transformative powers of an apron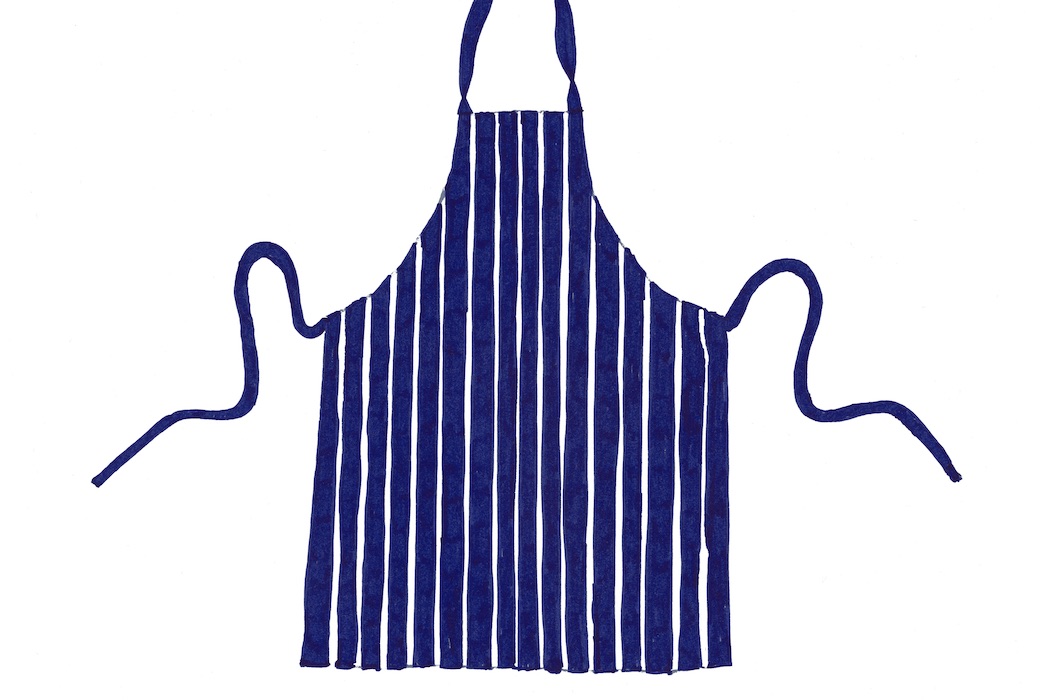 WORDS BY HELENA LEE
ILLUSTRATION BY REENA MAKWANA
In this column, we ask our favourite writers what they always reach for in the kitchen drawer. Helena Lee makes the case for the apron. 
The evenings currently run thus: arrive home from work, play with, read with, then bath baby, put baby to bed, take five minutes to drink in the silence, the solitude, the peacefulness. Go down to the kitchen, open the top drawer and take out the apron which has been folded in haste, stained from the previous day's endeavours. 
And when I slip the apron on, over the clothes I've lived my day life in, put in a little pleat to shorten the man-size length, run the ties round my waist twice so that I can fix a bow on the front, I am, at this moment, complete. 
The apron is armour; its protection is an enabler. I can do anything when I wear it, cook as creatively as can be: make deep-red wine sauces that would defy the civvies beneath, throw hot stir fries together that sizzle and spatter, gut and scale fish with abandon. I can pretend to be professional, say 'yes chef' to myself, pull a tea-towel through the ties on which I can repeatedly dry my washed hands after handling the likes of raw garlic or bloody meat - perhaps venison liver, or ox cheek for a stew. 
The apron does not call for reverence. It hasn't the menace of a knife, nor the jeopardy of scissors, the technology of a gadget nor the simplicity of a sieve. It is unremarkable and everyday. And my apron in particular, butcher-like with its white stripes on navy, is probably a little fusty (you should really have a few if you're as frequent a cook as I am, and wash them more often than I do) and deserves no special attention. But, the joy is in the cooking, and the apron gives you flair. There can be no better reason to love an apron than that.