Issue 1
Chinatown in Metroland
A golden age of suburban dim sum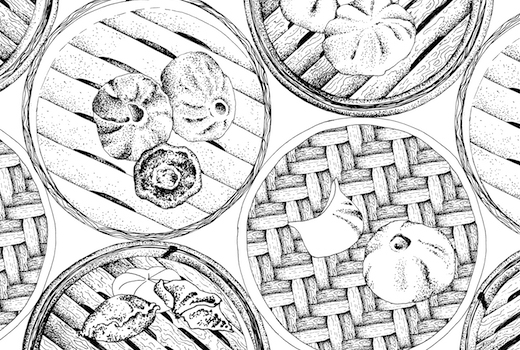 WORDS BY HELENA LEE  
ILLUSTRATIONS BY PAULA CASTRO
It was a golden age, when a nondescript piece of suburbia became a dim sum destination that families embraced and a community took to its heart. Its glory was all too brief but beautiful.
Wherever there's a station, there's a Station Road; an unassuming stretch lined with minicab hatches, takeaways and newsagents - collected together through expedience rather than design. Station Roads don't have their moment. They are the thoroughfare, never the destination.
Station Road in Harrow didn't service a picturesque village like Pinner, nor the eminent community on-the-Hill. It was the necessary route from Tesco to Gayton library to Debenhams, which my mother and father – first-generation Chinese from Malaysia and Hong Kong respectively, took in their Volkswagen Derby every week. On this stretch, one Chinese restaurant stood (and, it seemed, had always stood). The Taste of China, with its regal red sign, was far too refined for the likes of us. It was the sort of place, we assumed, that had knives and forks on the table instead of chopsticks. 
Golden Palace was where A-Level results were celebrated and boyfriends were taken to meet the family, watched closely as they were proffered duck's tongues and chicken's feet
Not that we'd ever been in, of course. Occasionally we'd see straight-backed, respectable couples behind the tinted glass who (we imagined) picked at lemon chicken and triangles of prawn toast. No, for Chinese food – for the Cantonese teahouse tradition of yum cha, we'd embark on the pilgrimage to Gerrard Street in Chinatown.
But it so turned out that in the early Nineties Station Road was adopted by the Chinese community. It started with the arrival of Golden Palace. It wasn't palatial and it wasn't particularly golden, but within months of opening, it was the restaurant that those far from home - from Hong Kong – yearned for. For us, the Sunday ritual was familial and familiar: the midday queue (no reservations for yum cha), the rushed "hullo hullo" from the curt waiters, the first cleansing sips of tea (steeped leaves of jasmine, oolong or chrysanthemum), heads nodding at a friend from Chinese church or a mahjong session. "Shall we go dim sum?" my father would ask eagerly and regularly. It was as much a treat for him as it was for me. 
Over-ordering was rife: the sign of a generous host. Crammed tables bowed under the towers of stacked bamboo baskets filled with small steamed things: bite-sized pieces of spare ribs, shiny in black bean sauce; pleated translucent prawn dumplings; parcels of sticky rice and chicken wrapped in lotus leaves. Plates flew out of the kitchen laden with slabs of taro cake studded with auburn nibs of Chinese sausage, and crisp golden digits of squid ready to be snatched rapaciously and dipped in the alarming gloop of red sauce. It was unthinkable that the post-lunch tablecloth would be anything other than patchworked with the stains of tea and chilli.
Golden Palace was the scene of many milestones: it was where A-Level results were celebrated, where boyfriends were taken to meet the family and watched closely (or laughed at) as they were proffered duck's tongues and chicken's feet. We took comfort in the weekly gossip that was swapped over a soundtrack of chopsticks clacking in hungry fervour. Where else would grannies have char siu bao placed on their plates by begrudging but respectful iPod-wielding grandsons? Where else would aunties get together and "wah!" affectionately at how tall you were, pale you were, fat you were? These were signs of love, signs of family. And as I grew, so did the restaurant. The queues were longer. The restaurant doubled then tripled in size. The flowers that framed the entrance – once modest arrangements of orchids – became something worthy of Elton John's living room.
It was the golden age. Station Road hummed as the Chinese businesses moved in: the nail bar; the acupuncturist; the bakery. One university summer was spent learning how to fold 20 boxes a minute at Ho's Bakery, where many working men were lured by the malty aroma of warm bread. "Are you a Chinese honey bun?" they asked me as they paid for their egg tarts. Leicester Square's Chinatown was a thing of the past, usurped by these suburban upstarts. The Observer's Jay Rayner and Charles Campion from the Evening Standard sat up and took notice as Golden Palace, in 2008, was declared "a neighbourhood restaurant with a national reputation". Here was Metroland's Chinatown.
But the dissolution of the empire was swift. A casual mention by my mother confirmed the end: "Golden Palace has gone," she said down the phone. "Where?" I asked. "Just gone," she said. Like the rest of the community, my parents didn't question the closure. Rumours abounded, but no one knew the reason, in the same way that no one knew why the Taste of China still stood, resistant to change. And while the Lee family now undertakes pilgrimages to a different palace (one that belongs to a Phoenix, off Baker Street), there's always the hope that Harrow's Station Road will rise again to be the destination it once was.