Issue 2
Indescribables
A Glaswegian expat hungers for a special kind of pakora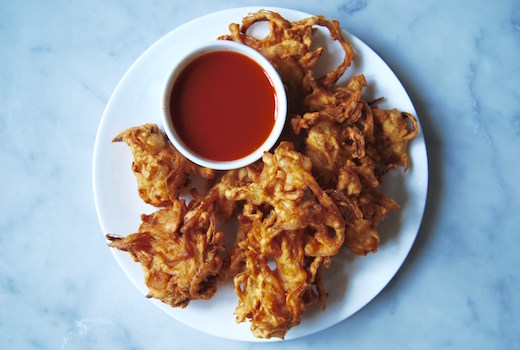 WORDS BY AUDREY GILLAN
PHOTOGRAPHY BY FRASER WRIGHT
Living in London gives you access to just about any food you fancy, yet there's one thing expat Glaswegian Audrey Gillan hungers for that you just can't seem to find down south...
They called them indescribables: clusters of gram flour-battered vegetables, little bombs of spice, deep-fried so that they were crisp on the outside and soft on the inside. "Pakora? What are they like?" the novice peruser of Indian-restaurant menus would ask back in the 1970s. "Well, madam, they're indescribable," the waiter might say. And so the indescribable pakora became a Glasgow phenomenon.
Pakoras are my madeleines. Give me a good one, 'jaggy' with protruding curls of onion, peppered with whole cumin and coriander seeds, and I'm three years old again, beside my young parents, who've taken me to a fancy restaurant called The Shenaz. It's all flock wallpaper, with a coat-check guy in a turban and turny-uppy pointy shoes. I'm given a side plate and a small taste of everything they order. I eat it all, but it is pakora that steals my heart. Glasgow pakora. A very different kind of pakora. I ask Marina O'Loughlin, the Glasgow-born food critic, why it is that our native city's pakora is just better and her face turns as if in holy rapture. "Oh my god. It's the crispness, the squidge, the heat, the strange, chalky dip. It's just not like any pakora I've had anywhere else," she says, before bursting out laughing at her next thought. "The idea of selling a giant plateful of vegetables to Glaswegians who would never order vegetables is remarkable."
Pakoras are my madeleines. Give me a good one, 'jaggy' with protruding curls of onion, peppered with cumin and coriander seeds, and I'm three years old again
She's hardly alone in her enthusiasm. I canvas the opinion of another Glaswegian: Isaac McHale, the Michelin-starred chef at The Clove Club in Shoreditch. As we talk, his mind wanders down little paths of pakora-filled reverie. "The best pakora I ever had was at school. We had a teachers' day where they don't really teach and they bring something in and Mrs Sughita (I think she was called) did a diced potato pakora and it was amazing, the pakora of my dreams. I was only seven but when I tasted it I wanted to learn how to make it, and so I did."
I imagine little Isaac, traipsing down Great Western Road to the KRK Continental cash-and-carry in Glasgow's Woodlands, pondering the boxes of dried fenugreek and sacks of gram (chickpea) flour. "I used to memorise all the names of the spices, wanting to make curries, and then I got our chip pan and started making pakora." Seven! Making pakora in his mammy's chip pan.
I ask if jaggy pakora (in Glasgow we speak of it in the singular) led to his Michelin star. "They were my turning point. They took me into the kitchen and, when I was about 13, I wrote to all the Indian restaurants in the city, asking if I could come and work for free. I wanted to learn how to use the tandoor oven. I think they just laughed at me. They probably thought it was some kind of trap – a wee boy wanting to come and work with a big, fiery oven."
I too worked in an Indian restaurant, albeit not for free, and the man who operated the tandoor was the god of the kitchen. Balbir's India Brasserie was one of the best in the city, the upmarket sister of the hugely popular Ashoka. On a Friday and Saturday night, aside from waiting the tables, it was my job to make the pakora sauce; at Balbir's it was a mixture of tomato ketchup, vinegar and dried mint from a jar. The chalky sauce Marina loves features yoghurt instead of vinegar. I laugh when I think of another of my jobs: to roll up facecloths, wet them, and spray them with air freshener (think Glade, not essential oils).
In my flat in Spitalfields, London, I pull a tatty, greased-up copy of the Shish Mahal Cook Book (published in 1982) down from the shelf. In it, the restaurant's then owner, Ali Aslam, explains: "The European tradition of serving a starter before the main meal is not customary in Indian or Pakistani households. The pakora is considered a snack, something to tide you over until dinner time. You can buy them in the street from traders who will fry them freshly for you, rather as you would expect to buy a hot dog, or hamburger, in this country; but there the similarity ends."
It was the spice that Glasgow grew to love. And soon the city that adores fried food adopted pakora as its post-bevvy snack of choice
Pakora came to Glasgow with the wave of settlers from Pakistan's Punjab, after independence from the Empire, enticed to the city by adverts seeking bus drivers, or simply to ply their trade as door-to-door pedlars. Soon they began to open cafes, restaurants and corner shops. The first curry shop opened in the city in 1954. In the 1970s, people like my parents were entranced by Indian food. They were in their early twenties, not far removed from the bland mince and tatties and stew stalwarts of their teens, and these restaurants with names like Shenaz and Koh-I-Noor felt like the biggest adventure. They would order pakoras, naans, rogan joshes and 'special beef', served with sides of chopped tinned pineapple, desiccated coconut and mint raita to temper the spice.
But it was the spice that Glasgow grew to love. And soon the city that adores fried food adopted pakora as its post-bevvy snack of choice. These days you can find haggis pakora, black pudding pakora and all sorts of fried, spicy nonsense (you'll gather that I'm not a fan of taking things too far with pakora).
I now live a chapati's toss from Brick Lane, home of curry in London. Yet I still crave that Glasgow pakora. For here, it is a different beast altogether: fat, doughy, and fried just once a day, not to order – they reheat with a ding in the microwave. It is not, for me, a remembrance of things past.
Glasgow-raised broadcaster and restaurant owner Hardeep Singh Kohli explains what he thinks the difference is: "Pakora is North Indian – more filling than batter. The Bangladeshi version is all batter and no filling. So, the Punjabi pakora is more akin to a fritter whereas the Bangladeshi pakora sold on Brick Lane, or South Indian bhaji, is a celebration of batter."
I go to Arzu, a shop on Brick Lane selling savouries and sweetmeats, to buy a box of pakora: onion, potato, mixed, chilli and aubergine. I take them to share with Isaac McHale in his basement office at the Clove Club. We poke them about a bit. They are deeply troubling, flaccid things that need a really good run-in with a chip pan. Our faces fall. "I want it to be jaggy, not big and fluffy," huffs Isaac. They might call them pakora but they're just not indescribables. We're booking a train ticket home.