PRODUCT
Spaghetti
Anita Klein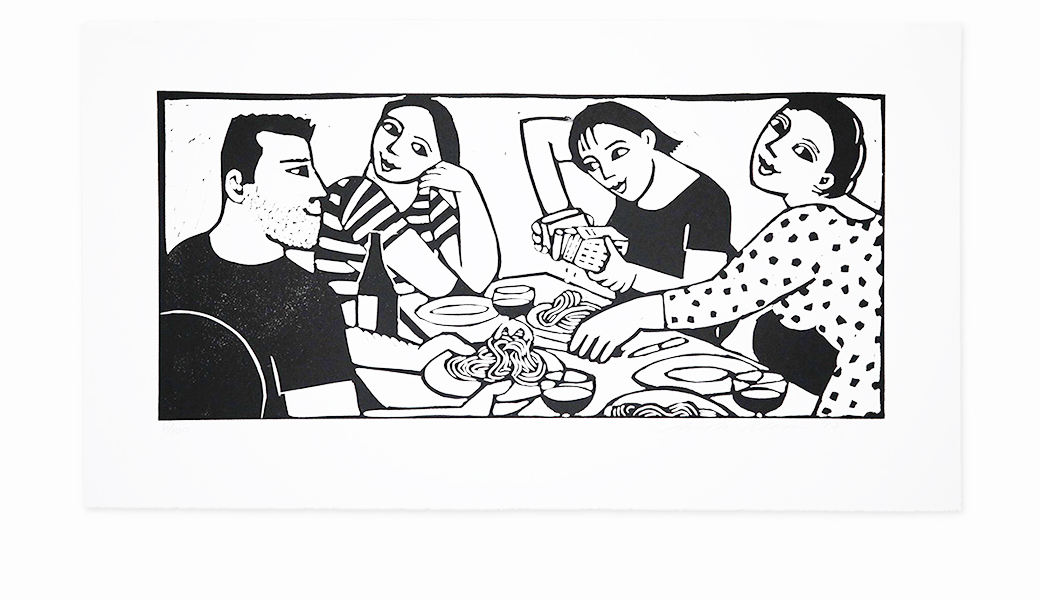 To celebrate the artwork that represents our Voices At The Table event series, we commissioned artist Anita Klein to create a new limited-edition linocut print. A celebration of family, home, food and eating together, this original print encapsulates the ideas behind much of Anita's work - celebrating the ordinariness of everyday life.

Original linocut
Signed and dated in pencil
Numbered from the edition of 100

Image size: 400 x 183mm
Paper size: 483 x 272mm


About the artist:

Anita Klein was born in Sydney, Australia in 1960 and studied at both Chelsea School of Art and Slade School of Art, where she was awarded the Henrique Scholarship. In 1985 Anita was made a fellow of the Royal Society of Painter Printmakers and was later elected their President in 2002. Public collectors of her work include the Arts Council of Great Britain, The British Museum and London University, and she has exhibited across Britain, Europe, America, India and Australia, including at the ICA and the Royal Academy in London.

At a time when the art world seems to be full of artists attempting to shock and denigrate, Anita Klein's intimate, life-affirming work comes as a welcome breath of fresh air. Her personal celebrations of everyday living rendered with humour, sensitivity and beauty reveal a joyful delight in the ordinary. Anita's art is an archive of personal moments that everyone can identify with. Witty, charismatic, warm and poignant, she is one of Britain's finest and most prominent artists and printmakers of the 21st century.
£145